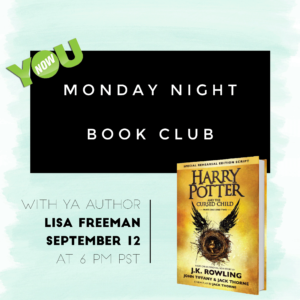 Hi everyone!
I have news from the Honey Girl world…
This fall I'll be hosting a weekly book club on YouNow. Every Monday at 6pm PST I'll talk with all of you about our favorite books of the season.
Our first book will be the controversially reviewed Harry Potter and The Cursed Child. We'll be digging into character development, the play structure, and whether the plot felt as satisfying as the earlier Harry Potter books.
I'll be filming the very first episode next week from Harry Potter World at Universal Studios. I'll show you around the park while I introduce the themes and questions we'll be talking about throughout the month.
And in case you want to read ahead, our two books for October will be Ransom Riggs' Miss Peregrine's Home for Peculiar Children (just in time for his movie to hit theaters) and Neil Gaiman's The Graveyard Book – both spooky books to get us in the mood for Halloween.
If you don't already have one, click here to make a YouNow account, so you're all set for 6pm on Monday evening.
See you then!